---
What makes this Jeopardy game different from what teachers have seen? Because, teachers receive a new game every Monday morning, ready to play with new content.
For 40 weeks, September- May, for your subscription you receive a new set of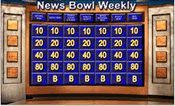 current events questions delivered to your every Monday morning. Weekly Topics are: NATIONAL NEWS, WORLD NEWS, PEOPLE PLACES THINGS, FAMILY & SOCIETY, ARTS & ENTERTAINMENT, SPORTS NEWS, MISCELLANEOUS NEWS
Go to www.newsbowl.com
---
Social studies -- Statewide Social Studies list
---
---
Revisions made to the NSCSS Constitution
---
---

The online submission form for the NSCSS Instructional Plan can be received by emailing John LeFeber at [email protected]

---
Below are some links to current web pages that contain information that is beneficial to Social Studies education.

The American Promise

A Link to a correlation to states' secondary social studies standards and the study of the Holocaust. http://www.cs4online.org/holocaust/ Please link or point schools to this URL